CIP Tank Cleaning Hose Reels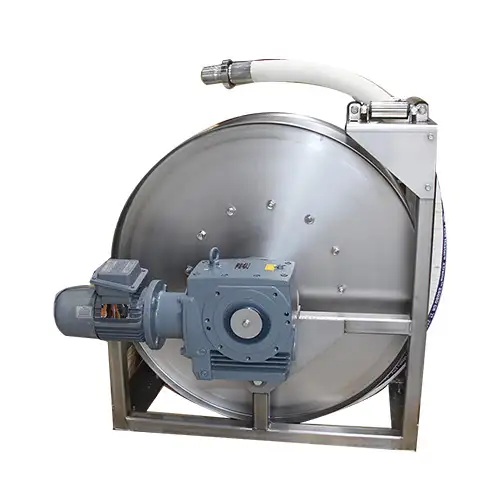 We supply safer and innovative CIP Tank cleaning and hose reel systems to meet the exact needs of the client. Our technology eliminates confined space entry hazards for personnel, manual handling of large and long lengths of CIP (Clean-in-place) hose, and fixed CIP Lances. Reel Tech reels are designed with safer rewind speeds, and explosion-proof motors and can be integrated into PLC systems for fully automated washing. Our CIP rotating nozzles from Spray Nozzle Engineering reduce CIP cycle times, water and chemical usage and turnaround times, saving time and money whilst delivering safer cleaning solutions. Our reel technology also extends to bulk delivery-decanting and other food transfer and washdown applications requiring hose storage solutions.
Design features
Safer CIP hose handling
Reduced confined space entry
Electric motor for staged cleaning
Safer rewind speeds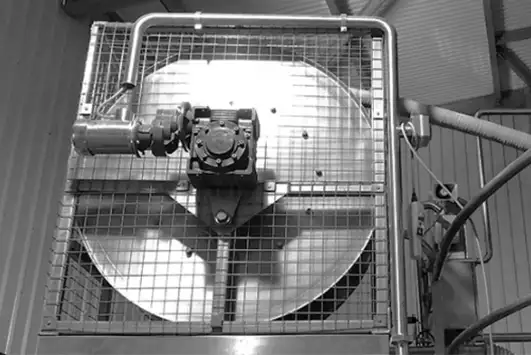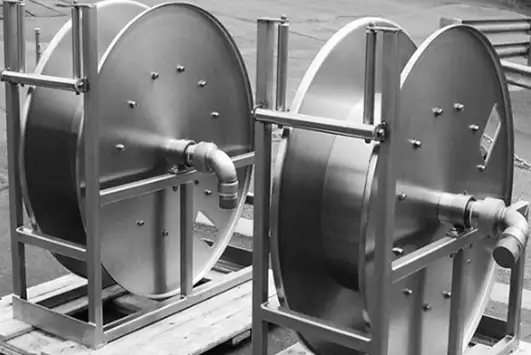 Safety of the CIP Tank Cleaning Hose Reel Systems
Less manual handling increases employee safety *please refer to REEL TECH'S 10 facts of hose reel safety
Motorised control prevents damage to the spray dryer and other plant assets
Rolled stainless steel solid discs to reduce the risk of injury
Optional remote control upgrade available
Full stainless steel hub and swivels construction
Hose lengths and sizes to suit standard 2", 2 1/2" and 3"
Roller assembly constructed of 304 stainless steel
Braked motors for safety
Direct Drive Hose Reels
Direct Drive Hose Reels are designed and assembled in Australia with the field proven backing of the largest reel manufacturer in the world. Heavy duty design for the most demanding conditions in any industry.
Features:
No chains, no sprockets, less moving parts, therefore, increase safety

Air or Hydraulic Rewind with

the unique "Direct Floating Drive" system
High-quality materials ideal for heavy duty applications

4-way Hose Roller Guide

Standard 90o Swivel Inlet / Outlet

Full flow fluid path for minimum pressure/flow loss
Optional features:
Stainless Steel Full Flow Hub

Vertical Swing Roller Arms

Pneumatic Brake Kit

Pneumatic Control Valve Kit

Features:
To handle 1/4"-1/2" I.D hose
½" Female NPT Threads
Standard pressure to 344 bar / 5000 psi – available up to 690 bar / 10,000 psi
Temperatures from -7oC to +204oC
(Consult factory for other pressures & temperatures) 
Applications:
Lubrication
Water Wash Down
Compressed Air
High-Pressure Grease

Features:
To handle 3/4"-1" I.D hose
1" Female NPT Threads
Standard pressure to 275 bar / 4000 psi – available up to 413 bar / 6,000 psi
Temperatures from -7oC to +204oC
(Consult factory for other pressures & temperatures)
Applications:
Oil / Water / Air
Bulk Grease Transfer
Coolant
Fuel Delivery

Features:
To handle 1- 1/4"-1-1/2" I.D hose
1-1/2" Female NPT Threads
Standard pressure to 41 bar / 600 psi – available up to 69 bar / 1,000 psi
Temperatures from -7oC to +204oC
(Consult factory for other pressures & temperatures)
Applications:
Oil / Water / Air
Oil & Waste Evacuation
Hi-Flow Fluid Transfer
Fuel Delivery