It's How Spray Dry Innovative is Done
Our latest Click&Dry™ product represents some of the most significant nozzle design developments in the history of spray drying!
10 Things You Must Know About Spray Dry Nozzle Design Standards & Compliance
Download our 10 Facts Infosheet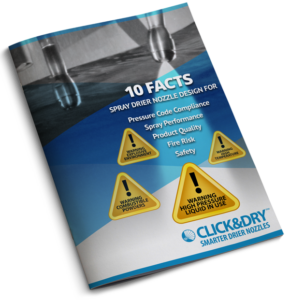 Please complete your name and email to download more information on our Click&Dry™ nozzles *Kindly check your email account's Spam or Junk folder to ensure the message was not filtered.
The downloaded information from this website is for your personal use only and not for commercial exploitation. Some of these products are protected by patent and trademark copyright. Full terms & conditions of suppliers available upon request.

N.B information used by Spray Nozzle Engineering group only.
I agree with the
Terms & Conditions