Spray-dry powder nozzles are precise and complex devices that can impact a spray plant's profit if they're not operating optimally.
One of the problems that can affect traditional spray nozzles is product build-up, or bearding, and this requires production to stop while nozzle cleaning is carried out. Bearding is a common phenomenon in inefficiently designed nozzles, and it slows down everything – from run times and productivity to profit.
Using dated disassembly procedures such as impact tools to dislodge stubborn cooked wear parts is also problematic. Ordinary thread systems are too fine to resist impact damage and unprotected sealing faces can also be damaged during handling. This means nozzle bodies have to be cut and rewelded. It goes without saying that breakage, repair and replacement can be a significant ongoing cost.
Spray nozzle wear in older-style nozzles can be difficult to spot. Often it's about relying on the symptoms rather than seeing their causes. This means money is needlessly wasted until the real problems make themselves known. This is due, in part, to traditional spray nozzles being instruments that are difficult to examine with the naked eye. Wear and subsequent enlargement or distortion of older style nozzle tips, for example, may only become obvious when the spray is significantly over capacity or is identified by spray collection data – which is not really a practical option.
So for spray drying plants using traditional spray nozzles, everyday practice includes keeping an eye out for clues of wear in the nozzles. Such clues include spray drop size increases, reduced spray impact, deterioration in the quality of the spray pattern, change in the flow rate, an increase in the amount of time spent on maintenance and ultimately, the dried powder characteristics altered.
However, there is good news! Spray dry nozzles are available that minimise and even eliminate the problems described above.
Spray Nozzle Engineering has designed and engineered revolutionary spray nozzles, Click&Dry that reduce maintenance costs and optimise production. In fact, their innovative spray nozzles can reduce operating costs by up to 50%.
There's also good news about the potential of impact tool damage on Click&Dry nozzles. Their spray nozzles are designed so that impact tools don't need to hit wear parts, and this minimises breakages and reduces operating costs. The spray nozzles also have heavy duty threads with a special form, which are highly resistant to normal impact damage during the insertion of lances in the dryer chamber. In addition, Click&Dry nozzles come with a seal face protection skirt that is designed to protect against O-ring seal groove damage.
Click&Dry backs up its products with evidence-based research. The engineers at Click&Dry conducted two comparison studies over a six-year period that compared wear usage in two old-style nozzles with new Click&Dry nozzles. They looked at two factors – safety and cost benefit.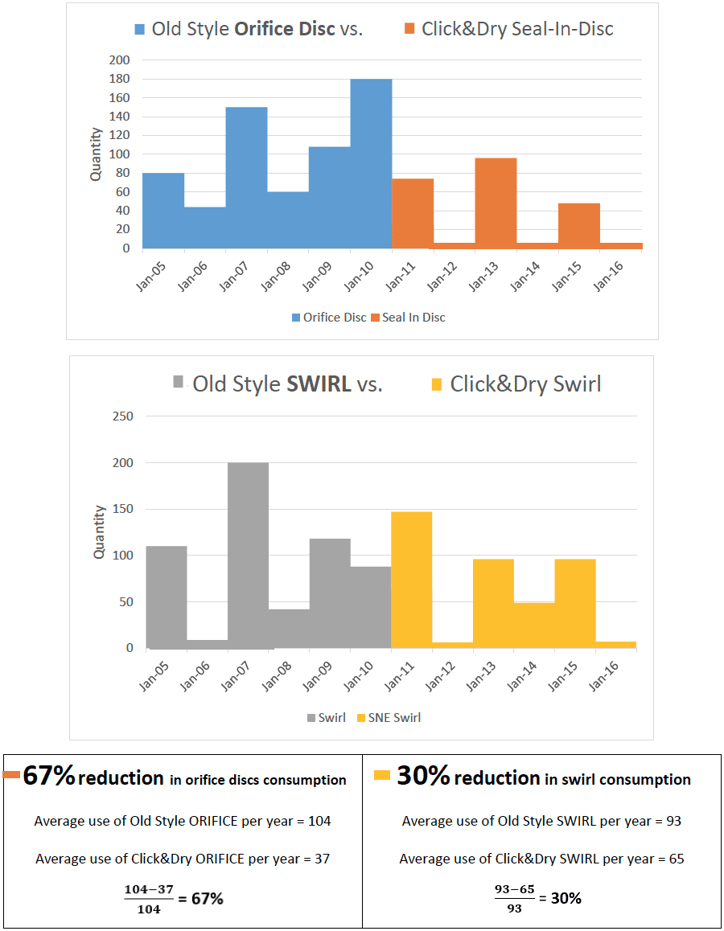 The results
Even better results were found when comparing the consumption of "Old Style Orifice Discs" against  "New Seal-In-Disk Orifice Discs". The result was a remarkable 67% reduction in orifice disc consumption. Average use was 104 versus 37 – the latter reflecting substantially less wear in Click&Dry spray nozzles.
In a single continuously operating site looking at the "Old style swirl chamber" versus the "SNE Swirl Chamber", there was a 30% reduction in swirl consumption. Average use was 93 versus 65 – the latter reflecting less wear in Click&Dry spray nozzles.
WATCH WEBINAR RECORDING
These results confirm what the engineers at Click&Dry division have been telling us on their website. Their products "represent some of the most significant nozzle design developments in the history of spray drying".
67% reduction in orifice discs consumption
Average use of Old Style ORIFICE per year = 104
Average use of New Click&Dry ORIFICE per year = 37
Read more about spray drying nozzle technology